BBC MUSIC DAY 2017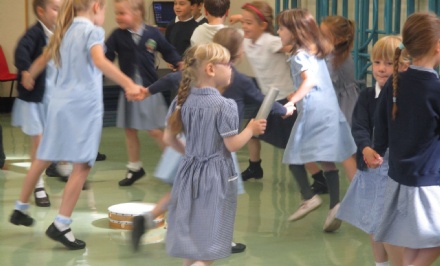 We enjoyed participating in the BBC World Music Day!
Parker's Primary had an engaging and motivating creative time joining in with BBC Music Day. During the day children enjoyed the experience of performing and listening to other children across the school playing their instruments as soloists or as a duo on a variety of instruments ranging from keyboards to clarinets, flute to bongos and ukulele to violin. Each performer admitted to feeling nervous but was clearly proud of their achievements. Staff joined in too and surprised the children that they too could have a go at instruments and that you don't have to play perfectly to get enjoyment from music.
In the afternoon parents and grandparents were treated to whole class performances of their response to one of the BBC Ten Pieces. Reception class had worked hard at putting together their own body percussion sequence inspired by Anna Meredith's Connect It. Years 1 and 2 clearly had a great time with their exciting energetic dance response to Wagner's Ride of the Valkyries (more commonly recognisable to them as 'Star Wars'). Years 3 and 4 produced a very imaginative and scary dramatic response to Anna Clyde's Night Ferry interspersed with depictions of Hokusai's The Wave and poems inspired James Reeve 'The Sea.' Years 5 and 6 combined voice and 3 sections of the orchestra (only missing the brass section) in their response to Edvard Grieg's In The Hall of the Mountain King from the Peer Gynt Suite.
'There was a real buzz in the classroom today. I had almost to force them out to break as they didn't want to stop what they were doing!' commented the Year 3 / 4 teacher
'I was delighted by the response to the project and the level of creativity and enjoyment expressed by children, staff and parents during our rehearsals and final performance' commented organiser of the day Jane Jones. 'It was, as I hoped, an uplifting and inspirational day.'
Parkers Primary CE VA School - Thursday 15th June 2017